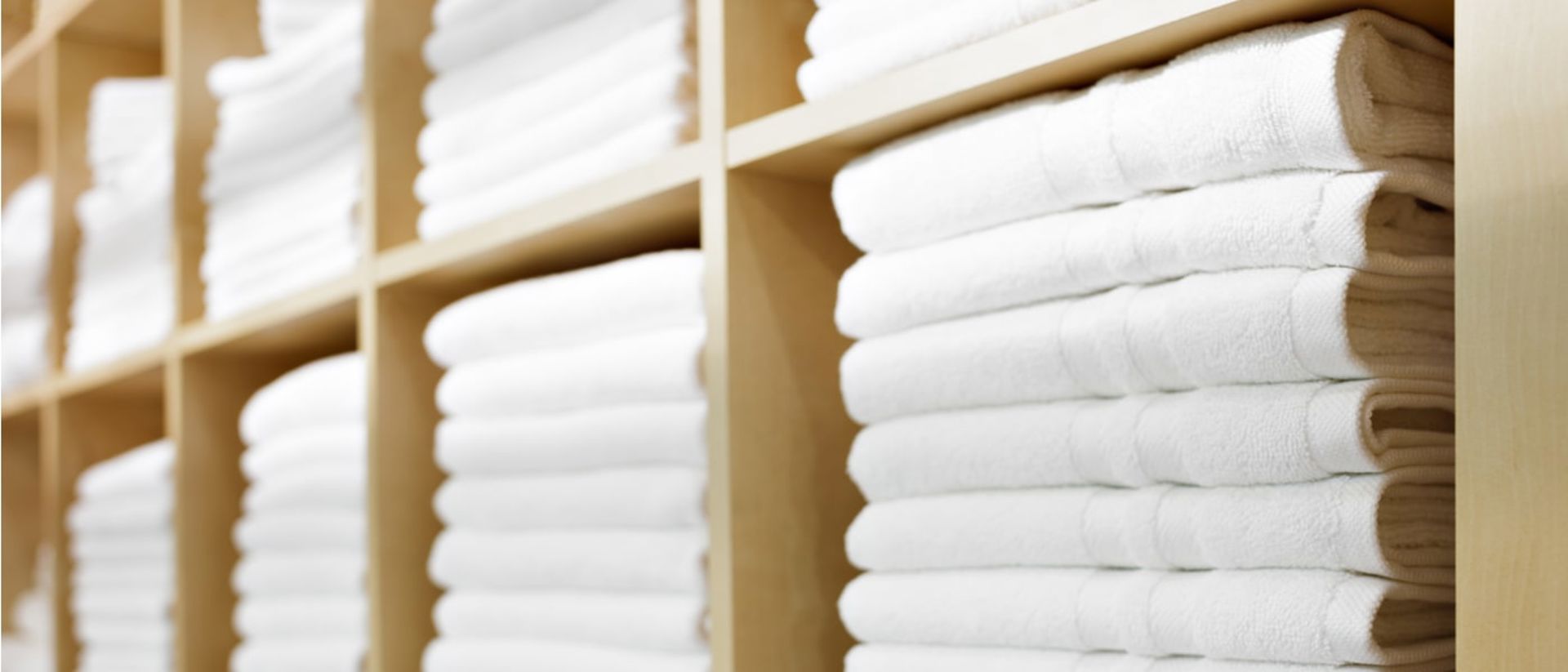 Commercial Laundry For Businesses In and Around Santa Fe
Running a business is already a lot of hard work. Doing the business' laundry is probably your most time consuming job. Plus you either do it yourself or you pay an employee to do it when they could be doing something much more productive. On top of that you have to pay the high maintenance cost for your washers and dryers. If you use our commercial laundry service then we will eliminate all of that hassle for you.
We will come to your location(s) and pick up your dirty laundry. We will launder it to your specifications and we will bring it back to you clean and neatly folded. We can come on a scheduled basis or just when you need us. And we can come to you multiple times a week if you need us to. Eliminate the laundry hassle and let Santa Fe Laundry do your laundry for you.
We are equipped to work with just about any type of business.
Hotels / Motels - towels, comforters, sheets
Mechanics –uniforms, work rags
Hospitals / Clinics - uniforms, bed linens, scrubs
Doctor's Offices –uniforms, gowns
Pet Grooming –towels, pet beds
Airbnb / VRBO - area rugs, towels, beach towels, sheets, blankets, kitchen towels
Gyms / Spas - towels and robes
Industrial Businesses - uniforms, rags, towels
Colleges - student laundry, department laundry
Sports Teams - uniforms, towels
Restaurants / Catering - chair covers, linen napkins, tablecloths
If your business is not on the list, don't worry. We will work with whatever you have to give us. Now servicing Santa Fe, Eldorado at Santa Fe, La Cienega, Tesuque, Las Campanas
The laundry service cost depends on how much laundry you generate, how often you require our service, and what type of laundry it is. For a bid, you can call us at: (505) 471-0331 or email us at: santafewashandfold@gmail.com
Commercial Laundry Services for Medical Facilities
Medical facilities have a higher standard of cleanliness then most places and that extends to their laundry. Our medical laundry service will take care of all of your laundry, no matter what type of facility you run. We will launder sheets and blankets for hospitals, towels and pet beds for veterinary offices, and we will do the personal laundry of patients at long term care facilities. 
Commercial Laundry Services for Airbnbs, VRBOs, HomeAway
Airbnbs, VRBOs and other types of vacation rentals always have guests coming and going. Most rental properties have laundry that needs to be done in almost every room, everything from the sheets and blankets in the multiple rooms to the kitchen towels and bath towels. That is a lot of laundry to keep up with and our Airbnb laundry service is up to the task.
Commercial Laundry Services for Restaurants, Bars and Catering
You always want your establishment and your employees to be clean and presentable at all times. But when you are in the food and drink industry everything is prone to getting stained. It is just the nature of the business. Fortunately our restaurant laundry service has expert launderers who know how to get out tough stains and get your uniforms, tablecloths, linen napkins and more, back to looking crisp and clean.
Commercial Laundry Services for Students
Some kids go off to college having done their own laundry for years. Other have never done a load of laundry in their lives. No matter what your laundry level, it can still be a hassle if you live in a dorm. Often, you have to lug your laundry up and down floors to a laundry room. If you are unlucky all the machines are being used and you have to go back later. Sometimes you are so busy with school you forget about laundry until you run out of clean underwear. If you sign up for our student laundry service we will come on a regular basis to pick up your laundry so you always have clean clothes. 
Commercial Laundry Services for Gyms, Rec Centers, Health Clubs
Towels are an essential item in places where you workout. Not only are they used in the locker room after a shower, they are often used to wipe off sweat after a workout. You want to make sure those towels are properly laundered so that the next person that uses that towel gets a clean, fresh smelling one. Our towel cleaning service will give you confidence that your towels will always be laundered properly.
Commercial Laundry Services for Uniforms
Many industries require their employees to wear uniforms. Everyone from the amusement park vendor to the high end waiter wears a uniform. Every uniform needs to be laundered at the end of their shift. Our uniform laundry service can clean and wash every kind of uniform. From the grease stained mechanic uniform to a doctor's scrubs. We will make sure that you look clean and professional.